Fullarton Park Dental is proud to offer Mouthguard sponsorship to local sporting clubs in the community.
Fullarton Park Dental is proud to offer school visits to local schools and child care centres in the community.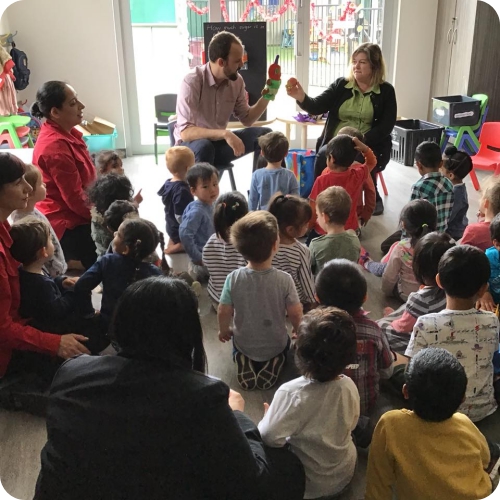 Fullarton Park Dental is passionate about being involved in and supporting our local community. We support & sponsor:
Local Artist - Peter Schulz
We're proud to showcase the artwork of local Adelaide artist Peter Schulz. Peter taught at the University of South Australia as senior art lecturer with special interests in teaching print making, painting, drawing and basic design studies. Peter exhibits locally and is still involved in teaching community art classes for the Onkaparinga Council. Peter is also the father of Dr Greta Filosi, and father-in-law of Dr Michael Filosi. We're very proud to show his artwork on our walls and for it to be a point of difference at Fullarton Park Dental.
Fullarton Park Dental is proud to support Glen Osmond Primary School's Crazy Colour Day! The FunRun will raise much needed money to help purchase new library furniture, a new outdoor play space, landscaping and an Aboriginal art mural installation. We wish them all the best in what will be a huge colourful mess and undoubtedly one of the most exciting days on the school's calendar.
Fullarton Park Dental has provided sponsorship of school events as well as running a mouth guard program for the girls' football team to promote the importance of protecting your teeth during contact sports. We are very proud to have been involved with Mercedes College and particularly supporting their aspiring young female athletes in this way.
Fullarton Park Dental has sponsored a number of events over the years at Concordia College and continues to support this local school and its community. We have provided gifts and prizes for the Concordia College Gala Ball as well as for the Concordia St John's Campus primary school Quiz Nights. We believe in contributing back to the local community in which we live.
Our association with Burnside Advanced Early Learning Centre began when we were contacted by a member of their staff about giving a presentation on the importance of making good food choices and tooth brushing techniques to the children who attend. We were happy to help out, and provided education and a goody bag to the children while explaining the difference between different food groups and why some foods are a "sometimes" food only. We hope that this information helped make the children more aware of their dental and oral health and increased their understanding of how what they eat and drink affects their teeth.
Fullarton Park Dental provided toothbrushes, toothpastes, floss and other oral hygiene products as care packages to students at St Peter's Girls School to distribute on an aid trip they undertook to underprivileged countries.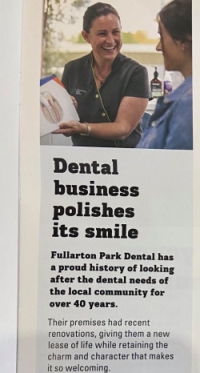 Local Media - Unley Life Magazine
Unley Life magazine promotes all the Unley Council area as a premier spot for people to live, work, shop and visit, with a focus on lifestyle and community. We were honoured to have been a part of the Autumn 2020 addition.
Community Partners
We are proud to provides services to, sponsor or have involvement with the following organisations: