What is your role at Fullarton Park Dental?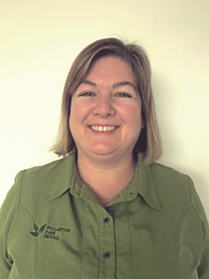 My role at Fullarton Park Dental is varied which is part of why I love my job so much. I am primarily a reception staff member but am also able to work as a dental assistant when need be which I also enjoy. In recent times I have organised some events such as our Re-opening after our renovations and Kids day which were both real highlights for me.
How long have you been a member of the team?
This December i will have been at the practice for 21 years, 16 of those were spent as Dr Hinchcliff's assistant. I had some time off when I had my boys but am thrilled to be back as part of the Fullarton Park team.
What do you most enjoy about your job?
I love interacting with people, i enjoy seeing lots of different faces during the day and hopefully being a positive part of their day.
What does an ideal Sunday look like for you?
An ideal Sunday for me is spent with my husband Ben and our two gorgeous boys Finn and Cooper. We love going to the park together or for a bike ride along the creek near our house.
Favourite holiday destination?
This is a tough one, I have so many!! We love taking the boys to Queensland, we really enjoy exploring the beaches on the sunshine coast but probably for sentimental reasons.
My favourite would be Port Elliot Caravan Park. We go there after Christmas every year. Growing up both myself and Ben spent all our Summer Holidays here so to now share this with the boys is really special.
What's a special skill you have that not many people know about?
I am a high level Calisthenics Coach and have won numerous state and national titles including one just this year. I have been involved for 32 years and have remained at the same Club the entire time.
What are you reading currently?
I'm currently reading "The woman in the window".
I love reading, its my way of relaxing. I try to read a bit every night no matter how late it is. Books have always been a big part of my life, my mum is a big reader too and always encouraged me to read and my son Finn loves it as well.
What's one thing you're excited about coming up in 2018?
My Husband and I are going to Melbourne for the Cox Plate, I'm looking forward to a nice weekend away and finding some lovely restaurants and fine wine.