Fullarton Park Dental is a BUPA Preferred Dentist in Adelaide
At Fullarton Park Dental our aim is to provide excellent dental treatment, personalised care and prioritising our patient's needs.
We understand that finding the best dental solutions and keeping up with added costs can be challenging which is why we offer affordable dental healthcare and we accept a variety of health funds, including being an approved BUPA dental provider.
We are part of BUPA's Members First Dental Network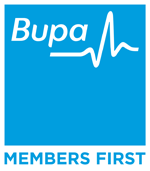 The Members First Extras network is one of Australia's largest networks of registered healthcare providers.
If you are a BUPA member on selected extras cover you can get at least 60% back on your dental needs up to your yearly limits. Treatments include check ups, x-rays and cleaning. Pleae note fund rules and waiting periods may apply.
Fullarton Park Dental offers on-the- spot claiming with HICAPS, allowing you to simply swipe your BUPA card after treatment to claim your benefits.
BUPA Plans offer gap free for most children's preventative dental treatment on selected covers up to your yearly limit.
If you would like to know more information about the Bupa Members First network or have questions relating to your own extras cover please don't hesitate to contact Fullarton Park Dental Reception on 8272 5271.

I LIKE THAT I CAN SWIPE MY BUPA CARD
My girls (aged 5, 7 and 14) are huge fans and are excited for a visit to Fullarton Park Dental. They are made to feel comfortable and all the staff are patient and kind. Dr Filosi is their favourite because he does magic tricks and blows up glove balloons for them! The TV screens on the ceilings are a bonus and I like that I can swipe my Bupa card. I highly recommend Fullarton Park Dental for all ages.
Lisa